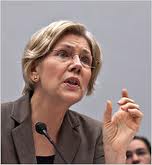 The much-touted Consumer Financial Protection Bureau announced new rules for mortgage companies to help homeowners facing foreclosure. I have read these new rules. They are a joke.
If you are interested to see how the news media report on the rules, then here is a Fox Business News article. If you want to read the actual fine print of the regulation, then you have to read the Consumer Financial Protection Bureau's PDF file of the text.
For those of you daring enough to read the actual regulation, pay attention to two parts – Pages 45 and 50. Page 45 (Section 1024.41(a)) makes it clear that a servicer cannot be forced to offer a loan modification, where it states, "Nothing in section 1024.41 imposes a duty on a servicer to provide any borrower with any specific loss mitigation option." In other words, it is a joke.
On Page 50, although it provides for an "Independent Appeal" from a servicer's decision denying a modification, it allows that same servicer to handle the so-called "Independent" appeal. It need only appoint "different personnel". In other words, it is, again, a joke.
The picture at the top of this blog article is of Elizabeth Warren. She is known for having done a great amount of work for the implementation of the Consumer Financial Protection Bureau as part of the Dodd-Frank Wall Street Reform and Consumer Protection Act. She is now a U.S. Senator, having won the election in Massachusetts largely due to her reputation as a consumer advocate. However, the picture was chosen because of the hand gesture she commonly makes – a gesture customarily used to refer to something as small or marginal. Given the substance of this blog article, the gesture is rather telling.
In sum, the regulation was designed to catch a few news headlines so that the average citizen thinks the President is doing great new things to help homeowners. However, when you look at the fine print, you realize that the 59-pages of the new regulation consist of nothing more than empty words. It was likely written by banks, for banks, not homeowners. It shows how politics truly is nothing more than an elaborate collection of cheap parlor tricks, designed to keep the average citizen hopeful, ignorant and at bay. It is all a game and we are the pawns.