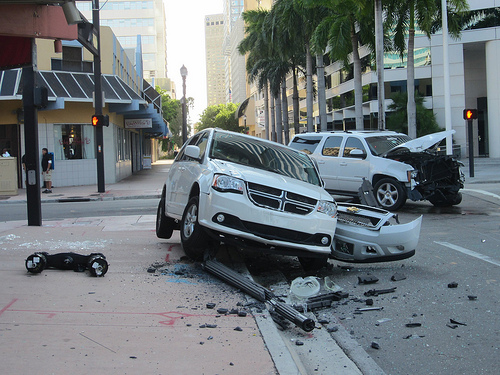 Accidents happen, and a Maryland personal injury lawyer can help. A personal injury case seeks to determine four essential issues: who was at fault, should that person have known to act more reasonably, did the failure to act reasonably lead to an accident or injury, and, if so, what would be an appropriate amount of money to compensate the victim for the injury? Legally, this is known as negligence, and the formal legal elements are duty, breach of duty, causation and damages. While these questions may seem simple, they are quite complex in practice. The law has evolved to include many rules – and many exceptions to those rules – that apply to a determination of liability. A competent Baltimore personal injury attorney knows how to use the rules to obtain compensation for the client.
Maryland Personal Injury Law
Torts, or negligent accidents that result in damages, come in many forms. Car accidents, slip and fall cases and professional malpractice are just a few of the scenarios that can give rise to a compensable personal injury. While the facts may differ, the essential questions for the Baltimore personal injury lawyer to answer are always the same – did the defendant owe a duty to the victim, did the defendant act unreasonably (meaning should the defendant have known to act otherwise), did the defendant's actions or inactions cause an injury to the victim, and what constitutes full and fair compensation?
This may seem easy to the average lay person in some cases. For instance, a car runs a stop sign and collides with the victim's car. Everyone knows the defendant had a duty to stop, the defendant should have known to stop, if the defendant had not run the stop sign there would not have been an accident, and the victim should be reimbursed for car repairs, medical expenses, lost wages and pain and suffering.
But, what if the defendant says he did stop, and the accident was caused by the victim flying out of nowhere at an unreasonably high speed? Or what if there was a cement truck blocking the defendant's view of the stop sign, and the victim could have reasonably stopped when he saw the defendant? Facts such as these are known as contributory negligence. In Maryland, contributory negligence is a complete bar to recovery. Without the assistance of an experienced Maryland personal injury lawyer, the victim could very easily lose the case if blindsided by these facts in court. A lay person should never try to handle a personal injury case on their own.
License & Education
In order to practice law, a Maryland personal injury attorney must obtain a license after completing postgraduate education in an accredited law school. Law school education consists of highly concentrated classes covering all areas of the law, along with legal ethics. In this setting, a future lawyer learns the rules and exceptions thereto that govern determinations of liability, how to litigate through motions practice, case development and negotiations, how to advocate in the courtroom by presenting evidence and arguing clearly and effectively, and many other aspects of the practice of law.
After law school, the budding personal injury lawyer must pass a state-administered bar examination. In Maryland, the examination is two-days long. The first day consists of a series of essays. The second day consists of 200 multiple choice questions. To provide some idea of how complex the law is, historically, only about 70% of the trained law graduates are able to pass the bar exam.
Fee Structure
A Maryland personal injury lawyer may charge different fees depending on the amount in controversy. In cases involving a permanent, severe injury with tens of thousands of dollars in medical bills, it is common for the attorney to handle the case on a contingent basis. This means the client does not pay any legal fees unless there is a recovery. In Maryland, contingency fees range from 30% – 40%.
However, many cases involve less severe injuries. In these cases, it is common for the attorney to charge some upfront fees, either on an hourly or flat rate basis. Hourly rates and flat fees vary depending on the skill and experience of the attorney.
Our Baltimore Personal Injury Law Firm
Jason Ostendorf is an experienced Maryland personal injury attorney in Baltimore. Our law firm handles personal injury cases in Towson, Cockeysville, Owings Mills, Annapolis and other areas surrounding Baltimore County and Baltimore City. Retain us to help you seek the full and fair compensation you deserve.
Image Credit: Phillip Passar